HUNGEXPO – Budapest hosted the ISF World Seed Congress
June 14th, 2017
As springtime comes around, the season of the international events has started at HUNGEXPO-Budapest, the biggest multifunctional event venue in Hungary. The first in the event row was the ISF World Seed Congress organised by the International Seed Federation (ISF) together with the Hungarian Seed Association on the 22-24 May.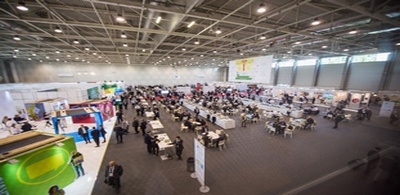 ISF has represented its members' interests since 1924 and is widely regarded as the voice of the global seed industry. Its biggest, world-wide congress is organised in every year. This year nearly 1700 seed industry professionals gathered from 62 countries to discuss the global issues facing the seed industry.
The event took place in Hall G and F on more than 14 000 sqm. A trading floor with 314 tables was furnished in Hall F, where the participants could organise meetings during the event. Hall G was divided into two parts with the built in mobile wall. The Hall G2 hosted an exhibition with 40 stands and 18 private meeting rooms.
Hall G1 had several functions during the event. At the beginning of the event it hosted the grand opening ceremony with 1650 chairs then it functioned as a plenary room with 100 school desk and 200 chairs. Finally it hosted the gala dinner for 1400 pax.
The guests had several options to travel to the hotels: beside the public transportation they can commute by the shuttle buses, which parked in Hall A and they can also choose the on-site taxi service, where altogether 600 taxi served the participants during the three-day event.
And when talking about numbers, some interesting figures should be mentioned in connection with the event. The set-up of the event was fulfilled with the participation of 150 builders, when 585 meters electrical cables was laid, 1.15 km octanorm panels were built up, 250 lamps and 1,15 tons of truss were used. Before the event 7485 sqm carpet was laid and a total of 2750 sqm signage surfaces helped the visitors.