Case Study - ITU Telecom World Congress 2015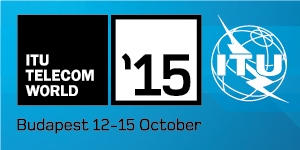 ITU Telecom World Congress 2015
Date: 12-15 October 2015
Client: International Telecommunication Union
Visitors: 4000
Exhibitors: 238
Venue: Entry Hall III. was used for registration, Building 25 served as the Leader Space, the exhibition was held at the interconnecting Hall F and G, while 11 temporary rooms were built up in Hall A for the conference.
The event was organised by the International Telecommunication Union who was celebrating its 150 anniversary in 2015 and held the first ITU Telecom World congress in 1941. Being a specialised agency of the United Nations, ITU's goal with the congress is to gather ICT industry professionals from all over the world in order to exchange ideas and inspire each other to create a better, more sustainable future by the information and communication technology.
The bid proposal for the congress by the Hungarian Government was prepared with the professional support of HUNGEXPO last year and the result was announced at the ITU Telecom World 2014 in Doha. Hungary won against Mexico, Italy and Hong Kong to host the event in 2015.
The 4-day-long event occupied 35.000 sqm in 4 major halls. The conference was held in the 20.000 sqm Hall A, where 11 temporary rooms (ranging from 200 sqm to 900 sqm in size) were built for the following purposes: Lunch room, Ceremony Hall, Workshop rooms and Conference rooms. Out of the 11 separated spaces 9 were built from a special soundproof structure which was recently purchased by HUNGEXPO, thus making it possible to schedule parallel sessions without having any interference. In the meantime the connected Hall G and F (altogether 15.000 sqm) were used for the exhibition. Building 25, a completely separated event hall was set up as the Leader Space, with strict access control. The recently refurbished AII. gallery and the VIP rooms on the mezzanine floor of Hall G served as office spaces for the organisers.
The event attracted 4000 participants including 239 leaders from 129 counties who attended the sessions of 247 speakers and visited the stands of 238 exhibitors from 54 countries and the 23 National Pavilions. During the event altogether 3620 different devices were connected to the newly developed 1/1 Gbps bandwidth Wifi system, furthermore the venue provided over 200 screens, 140 laptops and almost 600 internet lines with using 10 km cable.